January saw Meltwater and Coveragebook.com named as best PR analytics software, LinkedIn Engagement Insights available from  DataSift, the release of Edelman's Trust Barometer and reports of funding rounds for Talkwalker and Signal Media.  
---
Best PR Analytics Software:  Coveragebook.com & Meltwater
G2 Crowd released its Winter 2017 PR Analytics Software Grid.  The report, based on more than 394 reviews, placed Meltwater slightly ahead of Cision's Communication Cloud in terms of both satisfaction and market presence.  The star of the report, however, was Coveragebook.com.  The tool has been rapidly growing its fan base since it launched a couple of years ago, and the G2 Crowd report places the platform's customer satisfaction well ahead of competitors.  TrendKite, BusinessWire and Cision-owned Gorkana sat squarely in the middle-ground, with Nasdaq-owned Marketwired trailing.  Read the full report.
---
LinkedIn Engagement Insights now available from DataSift
LinkedIn has long been protective of its user data, making it a challenge for researchers to understand marketing effectiveness on the platform.  The company has now patnered with DataSift to provide LinkedIn Engagement Insights via DataSift's PYLON tool.  The offering promises to provide marketers an in-depth understanding of key audiences, their interests and engagement with content, and how they interact with brands on LinkedIn.  Of course, the use of "insights" is a little misleading – the tool provides smart data.  Data analysis is still needed to provide context and develop brand-specific insights.
---
Africa's media intelligence market continues to evolve
The increasing demand for a comprehensive media monitoring and measurement service to brands in the African market, P+ Measurement Services has entered into a strategic partnership with Reelforge Media Monitoring.  The agreement will see P+ Measurement Services handle Reelforge's client media monitoring and measurement work in Nigeria and Ghana, while Reelforge will provide monitoring services to P+ Measurement's clients in Kenya, Uganda, Tanzania, and Somalia.  P+ Measurement's Philip Odiakose (pictured), stated the partnership "aims to address the increasing demands for media monitoring and PR measurement services by clients across Africa".  In November, we reported on the growth of media measurement in Africa, and this partnership adds further proof of the opportunities available in the market.  Read more.
---
Lessons from 2016
January is always full of plans for a brighter year ahead, and 2017 was no different.  The members of the Measurement Practice, myself included, have each written their own take on the impact of 2016 events on communications and research and their implications for the year ahead.  With all the trends emerging in 2016, from machine learning to blaming "experts" to fake news, there's a lot to look out for in 2017.
---
Edelman Trust Barometer shows "trust is in crisis"
Edelman's annual Trust Barometer showed that, globally, trust in institutions is declining.  The report found that "two-thirds of the countries [Edelman] survey are now "distrusters" (under 50 percent trust in the mainstream institutions of business, government, media and NGOs to do what is right)".  The decline in trust is not limited solely to institutions, but also to a sense by respondents that "the system" is failing them as individuals.  The report will likely ignite fear into every comms professional tasked with maintaining an organisation's reputation, and does underscore the importance of truly understanding an organisation's consumer.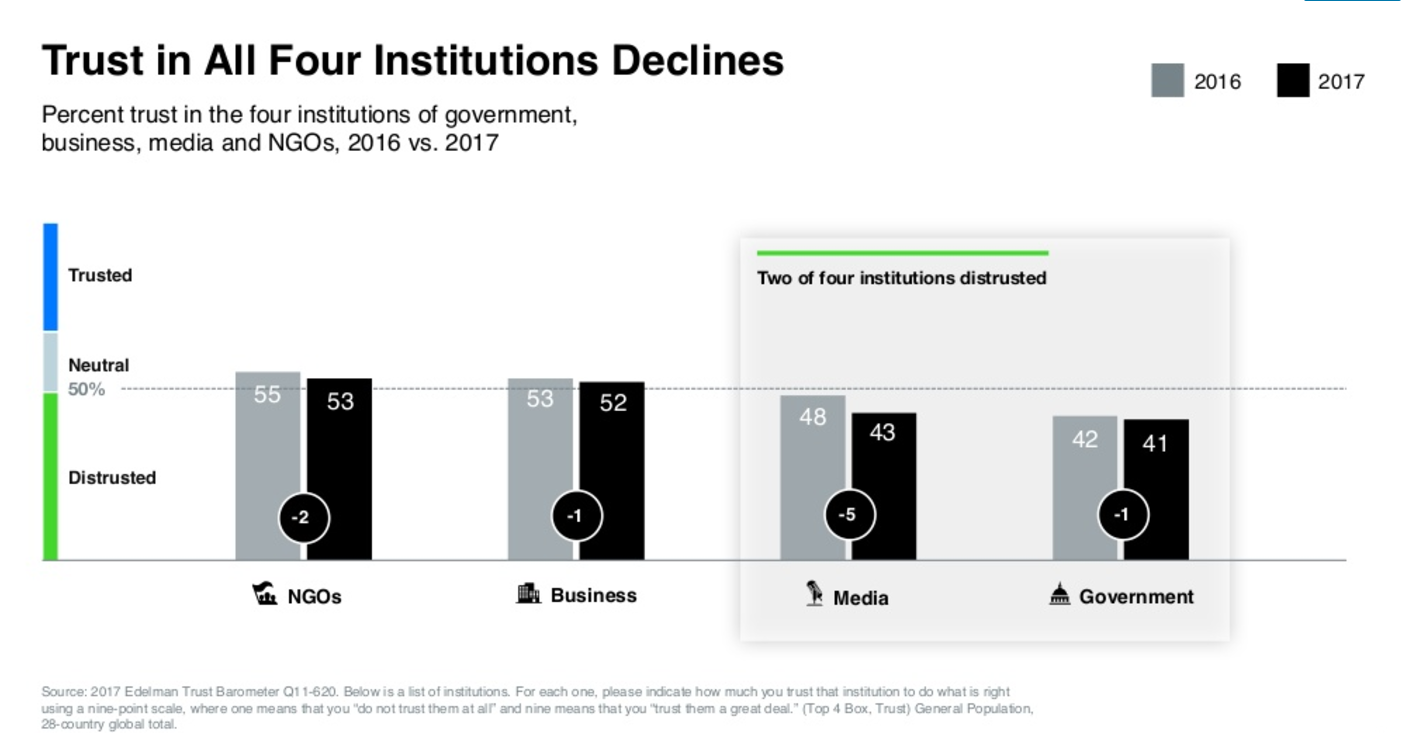 ---
Funding Rounds
Talkwalker and Signal Media have both reported funding.
Talkwalker has  secured €5 million in funding from Dutch software investor, Main Mezzanine Capital.  The funding will allow Talkwalker to accelerate development of its existing social media analytics platform while expanding its sales teams in Europe and the US. The funding will be invested in the further development of its existing, impressive, artificial intelligence capabilities.
In December, Signal Media closed a $7.4 million funding round with investments from U.K. and U.S. venture funds.  Investors included MMC Ventures, Hearst Ventures, Frontline Ventures, Reed Elsevier Ventures and Local Globe. The recent round brings Signal Media's total funding to $10.2 million.  The London-based start-up, which has "grown over 500 percent in the last 12 months" is planning to reach into the US market in 2017.
---
Don't forget to let us know about your measurement moments.  Email us – hello@prmeasured.com.