June was a big month in PR measurement – this month's measurement moments could just as easily be renamed "AMEC Summit Moments".

  

In no particular order, here are the seven measurement moments you might have missed from June.

   
---
Measure Better. Earn More.  
The PRCA's PR Census contains an enormous amount of intelli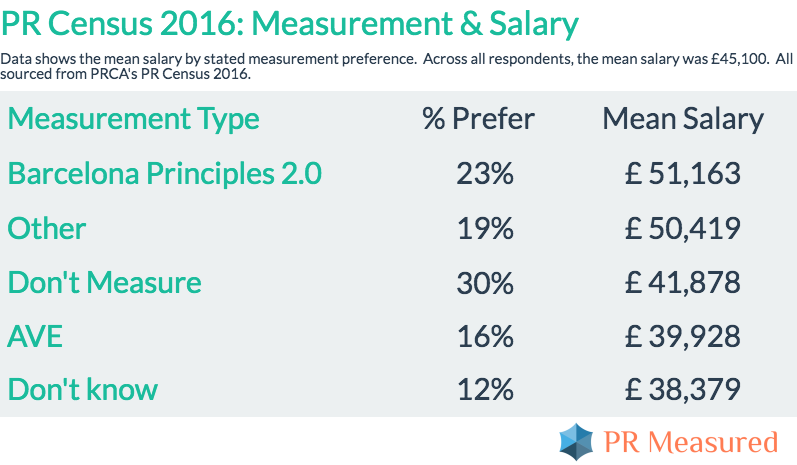 gence on the state of the UK PR industry.  The online survey of 1,874 respondents from the UK PR industry was undertaken between February and April this year.   There are some real positives – PR is growing at a phenomenal rate, with the industry employing around 83,000 up from 62,000 in 2013, and now worth £12.9bn from £9.62bn in 2015.  There are also some negatives – salary levels are down on both 2013 and 2011, a gender pay gap exists and more needs to be done to address diversity. 
There was one striking measurement insight that we managed to dig out from PRCA's dataset.  Next time someone wonders if they should adopt the Barcelona Principles, you might want to let them know that those that do earn £11.2k more than those preferring AVEs.  
---
Integrated Evaluation Framework
At the AMEC Summit, Richard Bagnall, Prof. Jim McNamara and Giles Peddy, unveiled the integrated evaluation framework.  The tool guides users, both PR and measurement professionals, through a step-by-step process that shows how to implement Barcelona Principles 2.0.  SpinSucks provided further endorsement and some interesting comments.  
The PRCA, ICCO and AMEC have launched a global testing initiative for the framework.  To get involved, find the details here. 
Of course, you don't need to wait for testing to be finished – the framework is live and you can use it now.  Explore our take on the framework, and let us know how you get on.
---
The world is mobile
Mary Meeker's internet trends report now feels like an old friend.  Each year it provides a brilliant and in-depth look at the changing internet world.  The 2016 report, released on 1 June, was no exception.  For the media analysts, the chart to check is usage and ad spend across channels.  It shows that continued advertising investment in print in the US – 16% of the total spend – and a fall in audience, with only 4% of time spent in print.  Meanwhile, mobile is now at 25% of time, and just 12% of ad spend.  We can guess where the money might be moving to.  
But, I think that the slide below really underlines the shift to mobile.  China is viewed as being well-ahead of the rest of the world when it comes to social -especially, social shopping.  The report shows that in 2016, 31% of WeChat users make e-commerce purchases via the app, up from 15% last year.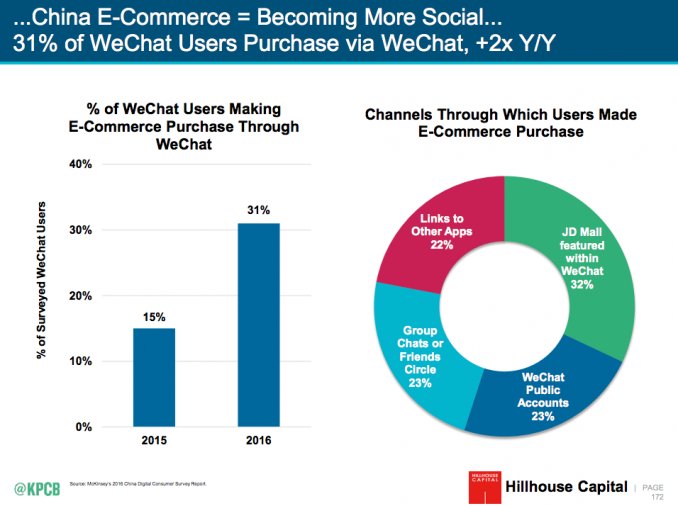 ---
AMEC Summit
The annual AMEC Summit made its way to London this year.  Over two days, the Summit tells us almost everything that we need to know about measurement.  Thinking back to the first Summit in Berlin, I am astounded by how far measurement has come and how AMEC continues to evolve to support its members and the broader PR community.  Among the mimosas, and the interiors of Lancaster House, we heard some true insights.  Learn three reasons why the AMEC Summit rocked from Shonali Burke, or take a look at our roundup, or simply marvel at the group photo of Summit delegates. 

---
"The consumer path should be the common journey"
During the AMEC Summit, I sat down with Sergi Guillot, CEO of Acceso, to talk why he thought the future of measurement lay with integrating data from multiple providers.  Acceso's focus on understanding consumer behaviour takes the measurement of PR beyond output metrics, and creates research results that can be used across an organisation.  The approach is paying dividends for the company – Acceso is already a leader in media and consumer intelligence solutions in Spain and Latin America, and recently opened their first office in the US and building their client base.  Read the whole profile.      
---
AMEC Lifetime Fellowship & Awards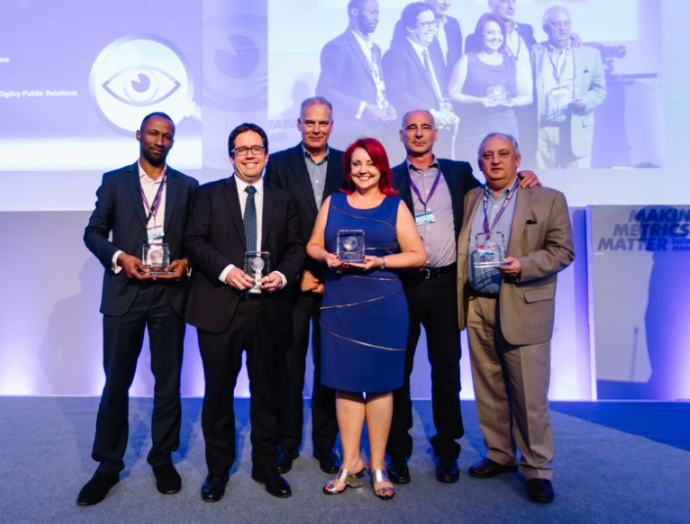 This year's Summit saw the Lifetime Fellowship winners being lauded.  Congratulations to: Alex Aiken, Executive Director for Government Communication, UK Government; Richard Bagnall, CEO, Prime Research UK and incoming AMEC President; John Croll, CEO, Isentia; Marion McDonald, Managing Director, Strategy & Effectiveness, Ogilvy Public Relations, Asia Pacific Region; Mike Daniels, Founder, The Measurement Practice and a former Chairman of AMEC; David B. Rockland, Ph.D., Partner/CEO, Global Research & Analytics at Ketchum and a former Chairman of AMEC and Andre Manning, Senior Consultant at Base Consulting.
Congratulations to iSentia for being named the Communications Research & Measurement Company of the Year.  The Asia-Pacific leader picked up seven additional AMEC awards on the night, as did Gorkana.   Check out the full list of awards. 
Talking of awards, congratulations to Prime Sweden for their Gold Lion for Research, Data Analytics and Insight Generation for their House of Clicks campaign for Hamnet.  Those at AMEC would have seen how the team used data to create a compelling story. 
---
Cision and PR Newswire are now one
Finally, it's happened.  Cision and PRNewswire are now merged.  Congratulations to all at Cision and PRNewswire.  I think that we are all eager to see what might be next. 
---
June has been a busy month, and as you head into the northern Summer and think about faraway destinations don't forget to let us know of your measurement moments.  Email us – hello@prmeasured.com.