As I work on my AMEC Summit round-up, this year's launch of AMEC's integrated evaluation framework deserves special attention.  The tool develops the valid metrics framework first launched in 2011, and last year's Barcelona Principles 2.0.  It was launched by Richard Bagnall, CEO of Prime Research UK and incoming AMEC Chairman, Prof. Jim McNamara, from University of Technology, Sydney and Chair of AMEC's Academics group, and Giles Peddy, MD of Lewis PR.  You can watch the launch on Periscope.     
About AMEC's integrated evaluation framework.
The integrated evaluation framework is an online tool that guides users, both PR and measurement professionals, through a step-by-step process that shows how to implement Barcelona Principles 2.0.  The Framework links organisation and comms objectives to outputs, outtakes, outcomes and organisational impact and measures across Paid, Earned, Shared and Owned (PESO) channels. 
In creating the framework, Prof Jim McNamara stated: "an important breakthrough presented in this framework is that AMEC has looked beyond PR evaluation models to other fields and disciplines including performance management, public administration, organisational development, and advertising and marketing.  By reaching into other disciplines and fields of practice such as public administration and management studies, as well as social science disciplines such as social psychology, this framework is able to identify widely used approaches and best practice as the basis for standards."
Using AMEC's integrated evaluation framework.
The tool could not be easier to use.  Just access the Framework and follow the steps.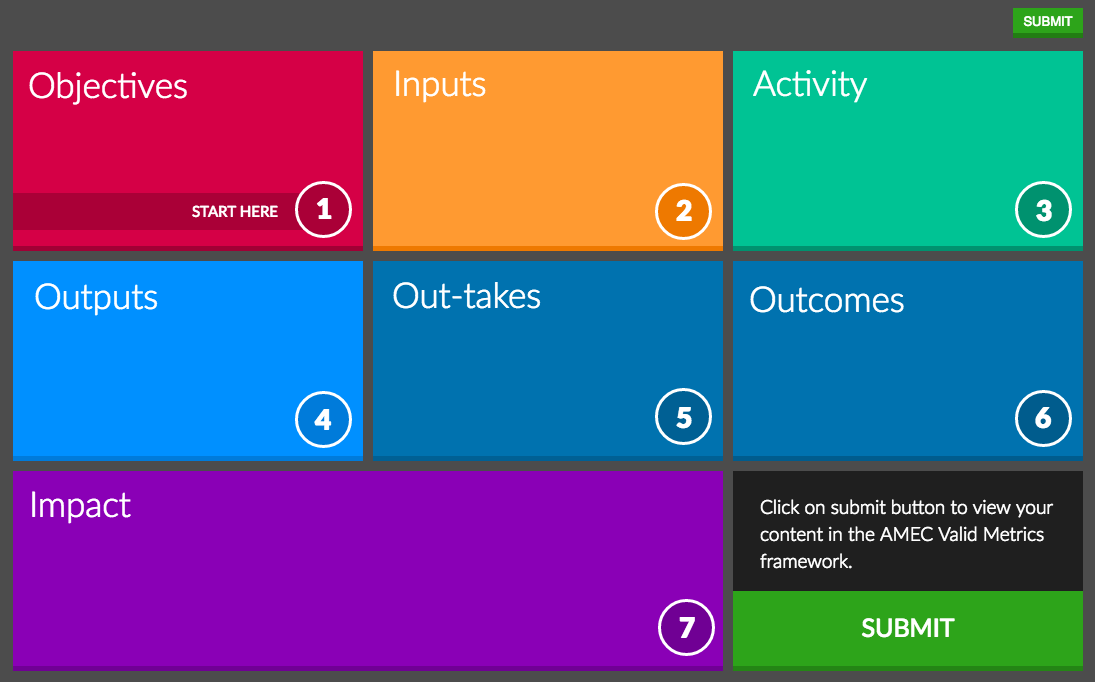 There's guidance all through the framework to provide support.  It's a new approach and, in truth, if you are not used to working on a structured framework like this, it may take a few tries to get right.  But it is clearly worth doing.      
Once the form is completed – and there's no need to complete the whole framework, if its not needed – click Submit and review, edit and download the framework.  It is important to note that the site does not save the framework. 
Endorsing AMEC's integrated evaluation framework
Reaction was overwhelmingly positive from the communications research and PR industry.
Rob Brown, President of the CIPR, said: "Measuring and evaluating PR campaigns has never been an easy task, historically comparing editorial values to their advertising equivalents seemed like a seductive idea. We put a monetary value on what we do and people bought into it, but it was nonsensical.
"The Barcelona Principles of 2010 and 2015 recognised the need for measurement of real outcomes rather than just outputs it was a huge step forward for public relations and evidence of an increasing commitment to professionalism."
Francis Ingham, PRCA Director General & ICCO Chief Executive, said: "This new approach from AMEC is exactly what the PR industry has been waiting for. What I like about the AMEC Valid Metrics 2.0 Framework is its simplicity; I've seen the methodology and like the logical step-by-step process. I trust AMEC to have got it right, too.
"The PRCA and ICCO have a strong history with AMEC, we both challenge and support each other and that has to be the healthiest of relationships. This is how important I judge the new AMEC Framework to be: I commit that ICCO will recommend to all 48 country PR associations in our membership to work hard to get their 2,500 agencies to adopt this new AMEC framework."
Alex Aiken, Executive Director of Government Communications, UK Government, said: "Evaluating communications effectiveness has never been more important. Across the UK Government, the AMEC Barcelona Principles have helped us to make sure we are measuring what matters. The Barcelona Principles need to be applied in practice so I welcome this new AMEC Interactive Framework which brings these Principles to life in a user friendly way.
"It's great to see the industry moving to reflect the integrated nature of modern communications and providing a framework for all levels – not just experts – to apply strong evaluation principles."
The endorsements are favourable, and the tool is both academically sound and user friendly.  However, any framework's success comes down to whether it is used.  At the launch, Richard Bagnall requested feedback on the tool be received by 19 August, so it seems a good time to try the framework to any upcoming communication work.