Over two days each year the leaders in measurement come together to discuss the key issues of the year at the AMEC Summit.  This year's summit, held in London, pulled together an exciting mix of measurement users and creators to define the best that the industry has to cover.  Here are the PR Measured key highlights.
Data as story telling
The need to tell compelling stories that engage end-users has been a theme in the data world for some time.  Thisw compelling examples of how data can drive brand story telling.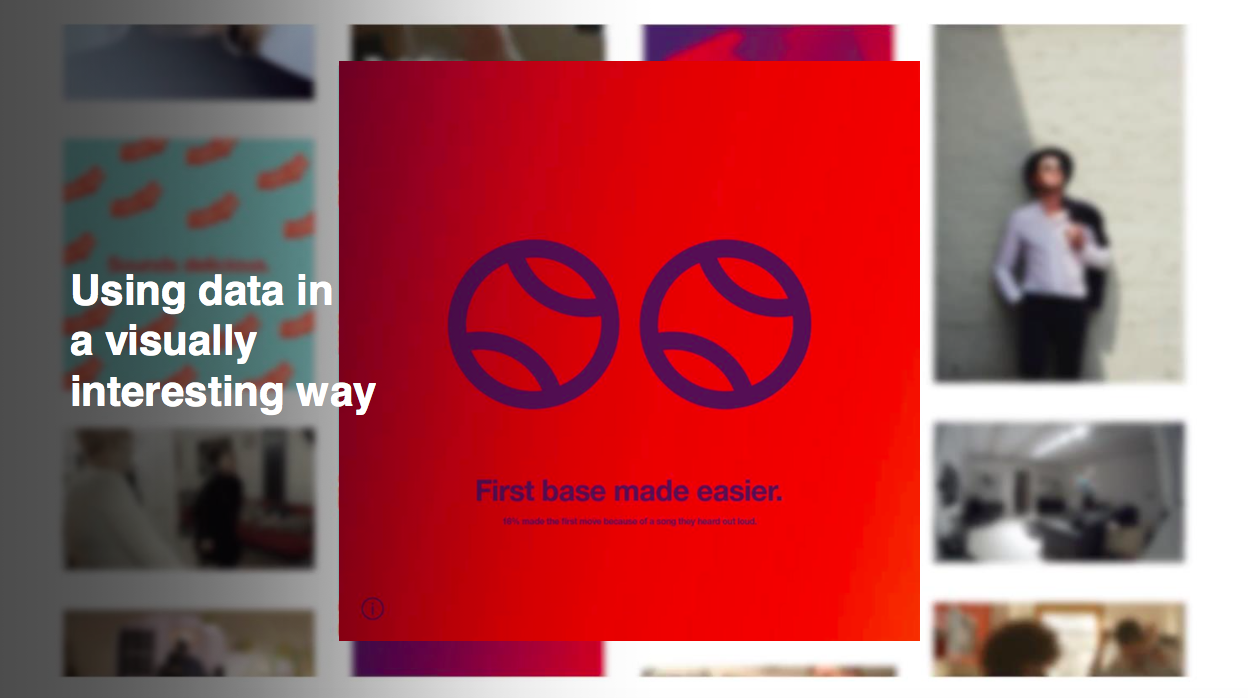 Pete Pederson, VP, Global Communications at Sonos, showed how the communications team used customer research to prove that listening to music out loud at home strengthens relationships.  The data not only proved the point, it also generated a source for "humanized"  stories.  While the research was carried out for a campaign for the launch of Apple Music, the insights are still beingyear's AMEC Summit sa used by Sonos to fuel campaigns. 
Ivar Isulander, from Prime PR, further outlined how "packaging data into creative communications concepts" could be effective.  Together with Elias Nilsson of United Minds, Isulander described how mining data from Sweden's leading online real estate portal Hamnett revealed the home most Swedes wanted.  While an infographic would have once been sufficient to generate media interest, the communications team brought in architects to design Sweden's ideal home.  The result was the basis of Hamnett's media campaign.     
Looking outside PR
PR data help to inform and define company direction.  With so much data that explains the customer journey to purchase, PR can find an awful lot of useful insight from outside its own department. 
Alison Levy, of LaunchMetrics, described how fashion was using social data to predict likely needed stock levels.  LaunchMetrics helps fashion businesses to see what looks are resonating with consumer immediately after a runway show, and can continue to feedback changes in consumer tastes.  The data enables fashion houses to predict needed stock levels, and to deliver location-specific favourites. 
China has both the most advanced social media landscape and the most advanced e-commerce landscape on the planet.  Retailers wield real power on consumer purchasing habits, according to Kantar Media CIC's Linda Xu.  It is necessary for brands to understand and respond to both consumer and retailer generated content to stay relevant and drive sales. 
Proving the value of PR
With exciting applications for data, it can sometimes be easy to forget that PR research is primarily used to prove PR effectiveness.  Faced with already limited resources, how PR proves its worth can make the difference when budgets are under attack.
Eileen Sheil, of the Cleveland Clinic, was facing a 70% reduction in her communications budget and a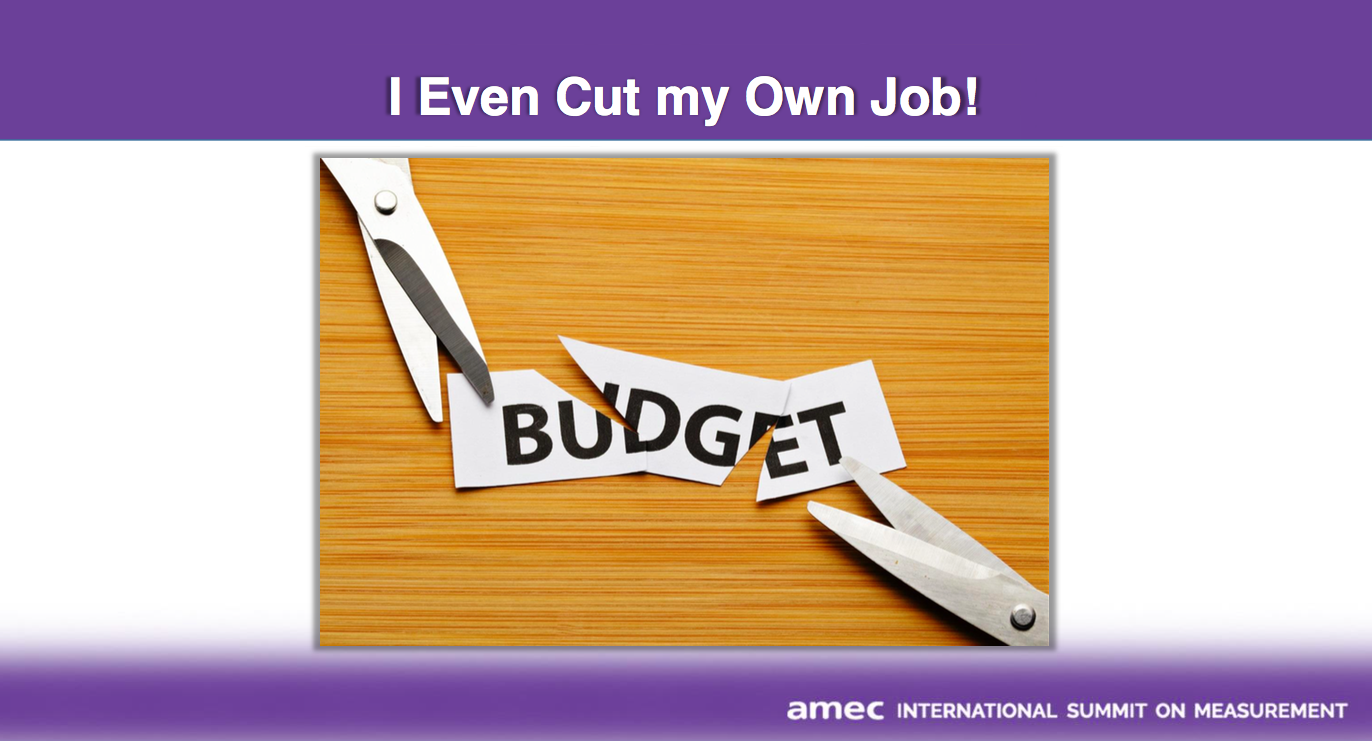 consultancy group that saw PR as an overhead and not a revenue driver.  Faced with cutting her own job, and changing the PR function from an education resource to a crisis team, Eileen Sheil had to act.  Using the Barcelona Principles as a guide, and Colon Cancer Awareness Month as the opportunity, Sheil  – together with partners Ketchum and Gorkana – showed precisely how much revenue PR generated.  The cuts were dropped, and Eileen Sheil continues to deliver revenue to her organisation.

Over a mimosa, Aaron C Radlett, Seinor VP Global Communications at Hilton Worldwide, explained that "you cannot manage what you cannot measure".  Overseeing some 13 brands and over 4,600 properties, Radlett underlined the importance of effective communications in delivering messaging not just to customers, but also to employees.  He stressed the importance of running and measuring campaigns across both internal and external stakeholders. 
"Don't reward A, when looking for B", decried Tim O'Brien, General Manager Global Communications at Microsoft.  The company has long had a proprietary news measurement system, known as Prime, in place.   However, these days, Microsoft is focused on measuring business results.  O'Brien admitted that while "buy now" PR can be tracked against sales, business results are more difficult higher up the chain.  Microsoft also flagged the issues with using technology to measure natural language, with detection of sarcasm being impossible for software both now and in the future.       
Moving beyond news media metrics
A measurement industry topic to be sure, but the need of traditional providers to deliver more than news media metrics was clearly indicated both on the podium and in the networking breaks.    
Gorkana's Jeremy Thompson, in the CEO Masterclass, quoted Google's Matt Lawson, the "consumer decision has been fractured into hundreds of decision making moments".  Thompson went on to highlight that measuring micro-moments of content engagement and access to real-time contextual insights were among the key trends in understanding that key consumer decision journey.  The consumer as focus was the mirrored by Kantar Media's Walter Patanella who felt that these days "insights are focused on what's next".
Thomas Vejlemand, CEO of Infomedia A/S, was perhaps the best at laying out the case for traditional monitoring and measurement providers to innovate.  Vejlemand outlined the do-or-die need to overhaul a legacy business.  His presentation on how Infomedia has implemented technology would be an effective guide for any legacy organisation that is unsure on how to progress.  As John Croll, CEO of iSentia, stated during the CEO Masterclass, we are "moving from a business that confirmed something happened".
Integrated Measurement Framework
Launched at the summit, the integrated evaluation framework is an online tool that guides users, both PR and measurement professionals, through a step-by-step process that shows how to implement Barcelona Principles 2.0.  The Framework links organisation and comms objectives to outputs, outtakes, outcomes and organisational impact and measures across Paid, Earned, Shared and Owned (PESO) channels.  Read more.
AMEC Summit Awards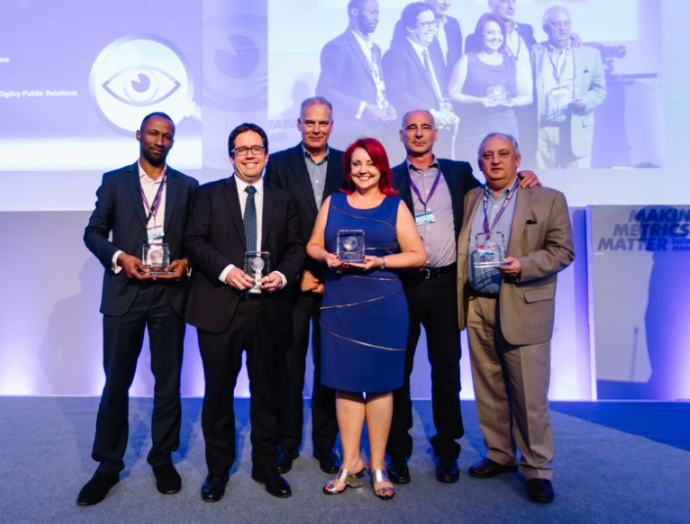 The annual AMEC Awards awards help define whose best.  This year the Lifetime Fellowship winners were also lauded.  Congratulations to: Alex Aiken, Executive Director for Government Communication, UK Government; Richard Bagnall, CEO, Prime Research UK and incoming AMEC President; John Croll, CEO, Isentia; Marion McDonald, Managing Director, Strategy & Effectiveness, Ogilvy Public Relations, Asia Pacific Region; Mike Daniels, Founder, The Measurement Practice and a former Chairman of AMEC; David B. Rockland, Ph.D., Partner/CEO, Global Research & Analytics at Ketchum and a former Chairman of AMEC and Andre Manning, Senior Consultant at Base Consulting.
Congratulations to iSentia for being named the Communications Research & Measurement Company of the Year.  The Asia-Pac leader picked up seven additional awards on the night, beating closest rival Gorkana, which managed 6.  Check out the full list of awards. 
Next year, the AMEC Summit will be heading to Asia.  The city is yet to be decided but we are looking forward to another two days showcasing the best our industry has to offer.  In the meantime, start preparing for Measurement Month, it'll be here before you know it.