The Reputation Institute, Watson Helsby and Vuelio have all released UK-based research in the past week that are relevant to PR and measurement.  Here's the PR Measured round-up of the key talking points:   
Reputation Institute: 2016 UK Reptrak 150
The Reputation Institute is one of the world's leading firms for measuring reputation.  It's Reptrak survey has various country level and global reports, and April 14 saw the release of the UK report.  The study, which is based on 7,200 interviews with UK consumers, reports the most reputable 150 companies.
Key talking points: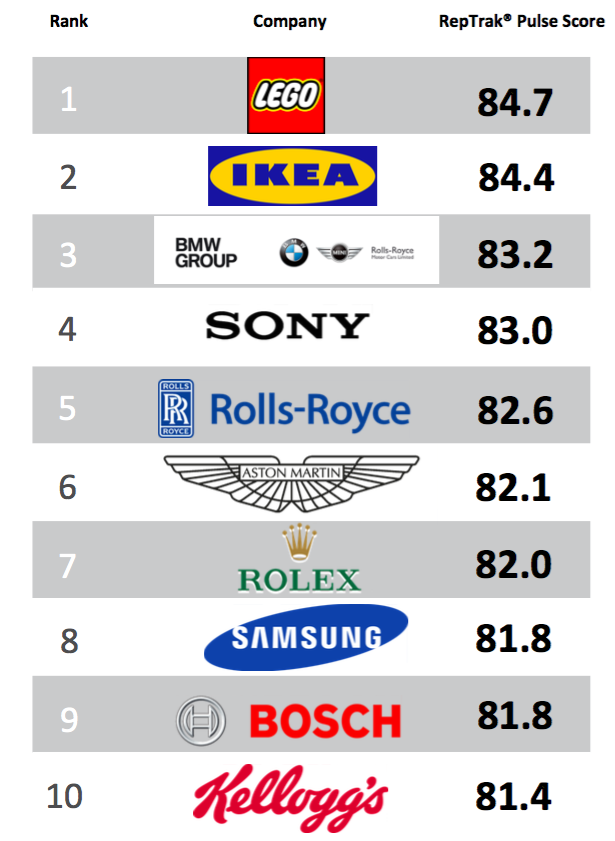 Lego takes the lead for the second year running.

 

Ikea bounces into second place and BMW, Sony and Rolls-Royce rounding out the top five.

   

It should come as no surprise, but the higher the reputation the more likely a consumer will purchase.

 

76% of respondents were likely to be buy a product from a company with an "excellent" reputation, compared to 26% for those with a "strong" reputation.

   

Trust is an issue, regardless of reputation.

 

Only 58% of respondents would trust a company with an "excellent" reputation to do the right thing – a figure that drops quickly to 4% to organisations with a "poor" or "weak" reputation.

   

Products / Services, Governance and Citizenship drive reputation among UK consumers. 
Register to download the full report – including the complete ranking of the top 150. 
Watson Helsby surveys the FTSE 100 Corporate Communications

 

leads
Watson Helsby, an executive search company, has published it's annual survey of FTSE100 Group Corporate Communications/Affairs Director survey.  The report provides information and insight on reporting lines, executive committee membership, remuneration and other data of broader interest.
Key talking points: 
20% of FTSE 100 companies do not have a corporate communications / affairs director.

 

The report notes these companies are usually B2B where "neither communications nor stakeholder engagement is a high priority and reputation is not seen as a strategic asset that requires any significant investment."

   

76% of corporate communications / affairs directors report into the CEO.  (It is worth noting that just 3% report into marketing.)

 

Almost half (47%) hold a seat on their company's executive committee.

 

Those that do usually oversee additional functions, such as HR or Legal, or are from a company where "reputation is deemed to be a highly prized strategic asset that requires the highest level of professional management".

   

Budgets are flat.  Half of all directors report that there has been no change to their budget over last year, and 37% of respondents reported a budget drop.

       
Visit the Watson Helsby website to download the report.
Vuelio Top 10 UK PR blogs
Vuelio, which took over the Cision UK business in 2015, has continued Cision's regular blog ranking lists.  The annual ranking of PR blogs has been released, and is always worth a read.  Below is the full list:
3. PRexamples 
5. PRmoment
8. Berkeley PR
9. Hotwire 
10. Vuelio Blog
Explore Vuelio's analysis of the results.