In no particular order, here are the seven measurement moments you might have missed from August.  This month sees a focus on social journalism, with reports from Cision and Ogilvy Media Influence.    

   
---
AAP Medianet acquires Mediaverse
The Australian media intelligence market is highly innovative and always sparks our interest.  And so, when AAP Medianet announced its acquisition of Mediaverse we were excited.  After all, these two companies provide innovative and interesting products that really answer the needs of local PR pros.     
PR Measured caught up with Michael O'Connell, Managing Director at AAP Medianet, to learn what was behind the acquisition and how the market was developing.  Like many of us, O'Connell thinks that it's an exciting time to be in the industry.  
---
50% of journalists use social media as their primary source of news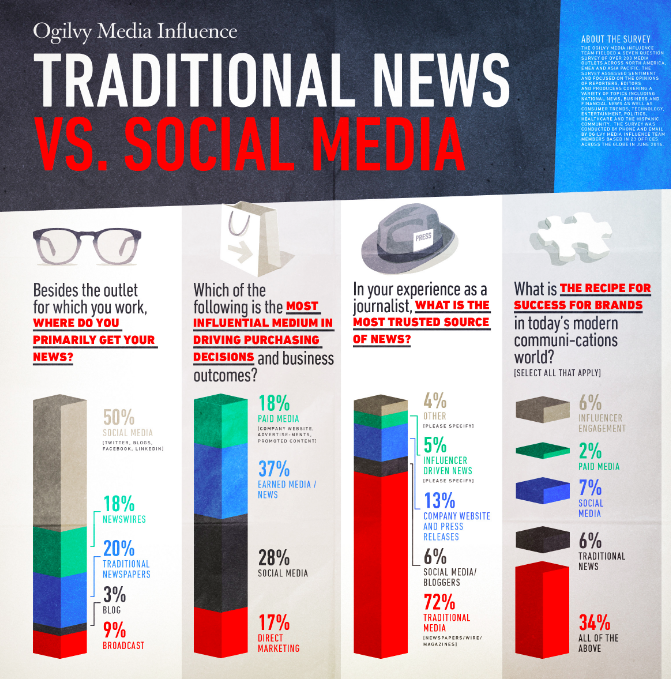 Ogilvy Media Influence released it's first-ever global survey of over 200 reporters and editors.  It investigates how journalists view the world in which they operate, which makes for interesting reading.  The survey found that 72 percent of respondents agree that traditional media outlets are the most trusted news sources.
How journalists use the media is telling – 50% use social media as their primary source of news (besides their own outlet).   APAC respondents led, with 62% using social media, while in EMEA only 24% use social media as a primary news source.  EMEA journalists show a strong preference to sourcing news from traditional newspapers, one of the least popular sources in APAC and NA.
Showing just how social has changed the media landscape in Asia, the region's reporters described social media as the most influential at determining purchasing decisions and business outcomes (38%).  In Europe and North America, earned media led with 33% and 41% respectively.  Read more.
---
Cision's social journalism study explores the theme
Cision's fifth annual social journalism study digs deeper into how journalists use and view social media.  The research, carried out with Canterbury Christ Church University, surveys the attitudes of 2012 journalists from Europe and North America.  The report found that journalists typically spend up to two hours each day working on social media.  Social media is used primarily to publish and promote content, and journalists will typically use at least three platforms to do so.
In a parallel with the Ogilvy Media Influence study, Cision found that journalists are using social media to source news. But, Cision reports a marked increase for all countries, except the U.S., in the proportion of journalists who feel that social media undermines traditional journalistic values.  This is because social media encourages journalists to focus on the speed of reporting rather than on quality.   Access the full study.
---
Global Olympic Partners win gold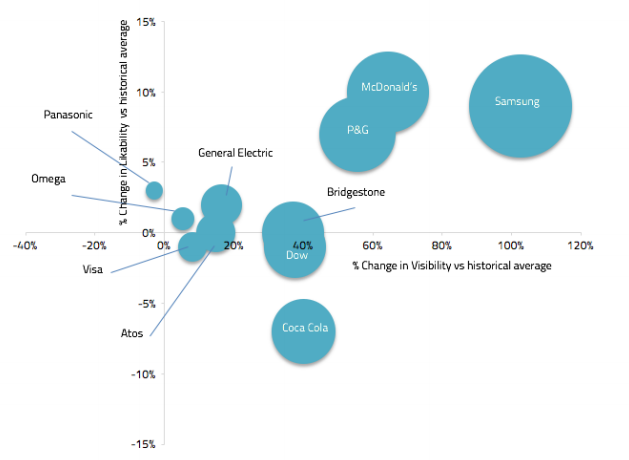 It would be remiss of me not to mention the Olympics and the range of research reports available on the success of sponsors.  One report by  Alva, the business intelligence group, analysed all publicly-available global English language content for the 11 Global Olympic Partners in the 12 months prior to the Olympic Games and for the duration of the event to determine which brand saw the greatest change.
The study found that the overall visibility across all Global Olympic Partners grew by 34%, with Samsung taking a considerable lead.  McDonald's saw the highest rise in likability during the Games, thanks to excitement over free food, and athletes posting their delight at its presence.  Procter & Gamble generated the greatest overall likability with many social media users posting praise for its #thankyoumom campaigns.  Explore the full report.
---
Kantar Vermeer & Unilever on building the insight engine

Insight engines, or the organisational capability to turn massive amounts of consumer data into insights about consumers' motivations and to turn those insights into strategy, is now a core competitive advantage.  In its study Insights2020 study, Kantar Vermeer found that to drive customer-centric growth, no factor mattered more than a firm's insights engine, embodied in its insights and analytics function.
Unilever, the firm behind brands like Dove, Knorr, and Axe, generated $60 billion in revenue in 2015, propelling underlying sales growth of 4.1% for the year.  Unilever's customer-centric strategy, propelled by its insights engine, is at the heart of that growth.  In a fascinating piece for the Harvard Business Review, Stan Sthanunathan and Keith Weed of Unilever join Frank van den Driest of Kantar Vermeer for an in-depth look at how Unilever leverages insights across the whole enterprise.  Read the full article here.
---

Measurement Month 
Measurement Month is upon us!  Events are being held across the globe, with providers, experts and measurement consumers joining forces to provide a month-long festival of PR measurement.  Check AMEC's Measurement Month site and join in.   
Be sure to email hello@prmeasured.com and tell us about your favourite Measurement Month moments.
---
What's the biggest PR disaster you've ever seen?
ProgrammerInDistress asked Reddit "what's the biggest PR disaster you've ever seen?".  The question prompted over 7,500 responses from across the Reddit community.  The responses are interesting for a couple of reasons.  While the definition of PR wasn't defined in the question, Redditors often confused PR with marketing, advertising and promotional activities.  There are plenty of examples of terrible ideas, but few can be traced back to PR.  Based on this sample, PR has a poor reputation, which is ironic given that PR is the one marketing discipline that can effectively manage reputation.   No Redditors refer to hard data, which is surprising.  The learning for the PR pro here is that asking consumers what they think will likely uncover the prejudices and misinformation that can then be addressed within a campaign.  Explore the responses on Reddit.
---
Don't forget to let us know about your measurement moments.  Email us – hello@prmeasured.com.